24 Mar

Thompson Engineering Honored as Top Safety Leader by Associated Builders and Contractors
Thompson Engineering Honored as Top Safety Leader by Associated Builders and Contractors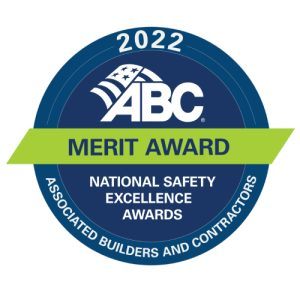 Thompson Engineering has earned a National Safety Merit Award from Associated Builders and Contractors. The award was presented at the 33rd annual Excellence in Construction® Awards during ABC Convention 2023 in Orlando, Florida, on March 16. The award was presented to 49 contractors nationwide.
The 2022 National Safety Excellence Award winners were selected from ABC member firms that achieved Diamond, Platinum or Gold status in ABC's STEP Safety Management System in 2022. During the selection process, contractors were judged on self-evaluation scores, lost workday case rates, total recordable incident rates, leading indicator use, process and program innovations and interviews conducted by members of ABC's National Health and Safety Committee.
"World-class safety and total human health are essential pillars of the culture of ABC member companies—and those priorities are exemplified by these contractors," said 2023 National Chair of the ABC Board of Directors Milton Graugnard, executive vice president, Cajun Industries LLC, Baton Rouge, Louisiana. "Thompson Engineering prioritizes taking care of its employees, their greatest asset."
The National Safety Excellence Awards are presented in three major North American Industry Classification System code categories: NAICS 236—Construction of Buildings; NAICS 237—Heavy and Civil Engineering Construction; and NAICS 238—Specialty Trade Contractors.